Film Meets Art: da Edward Hopper e Botticelli a Hitchcock e Tarantino
Che cosa hanno in comune casa Bates e Hopper, Ophelia e Lars Von Trier, L'Ultima Cena di Leonardo da Vinci e Paul Thomas Anderson?
La storia della settima arte è edificata da ispirazioni, contaminazioni e imitazioni che arrivano dritte dritte dalla vita reale e dall'arte che se ne nutre.
Legami che saltano anche all'occhio meno edotto e appassionato d'arte, quando fanno riferimento a icone del calibro di casa Bates, ispirata alla House By The Railroad dipinta da Edward Hopper nel 1925, per stessa ammissione dello sceneggiatore Joseph Stefano, alle prese con Psyco di Alfred Hitchcock.
Ispirazioni rese ancora più manifeste da appassionati come il regista e attore Vuger Effendi, mettendo opere pittoriche e scene cinematografiche a confronto nel supercut Film Meets Art.
Tre minuti di comparazioni al ritmo con noctural di Gio Galanti, per un viaggio che parte con il Napoleone Bonaparte realizzato da Benjamin Haydoni nei primi anni del 1800, affiancato ad una scena de I Duellanti (The Duellists, 1977) di Ridley Scott, tratto dall'omonimo romanzo di Joseph Conrad, arrivando alla sublime visione di Ophelia dipinta di Sir John Everett Millais, rivisitata dalla Melancholia di Lars Von Trier.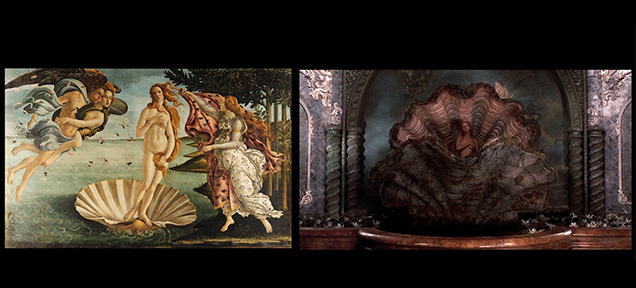 Si continua con Le avventure del Barone di Munchausen (The Adventures Of Baron Munchausen) di Terry Gilliam che citano La nascita di Venere di Botticelli con la giovane Uma Thurman, e il Blue Boy di Thomas Gainsborough che torna in una delle tante citazioni del Django Unchained di Quentin Tarantino.
Leonardo da Vinci - Il genio a Milano: il docufilm al cinema
Nella Milano di Leonardo con opere e personaggi storici pronti a compiere un viaggio nel tempo, nella storia dell'arte e della scienza, cambiate per sempre dal suo genio
L'Ultima Cena di Leonardo da Vinci ritorna anche nella scena del Vizio di forma (Inherent Vice) di Paul Thomas Anderson, mentre Days of Heaven di Terrence Malick richiama Christina's World di Andrew Wyeth. 
Tra i quadri accostati da Vuger Effendi a scene di film, c'è anche Pacific di Alex Colville che ha ispirato la scena di Heat - La sfida (Heat, 1995) di Michael Mann che porta McCauley in piedi davanti ad una finestra e guardare l'oceano con la pistola in primo piano.
"L'arte ispira il cinema, il cinema ispira l'arte. Sono un amante di entrambi ed ero interessato a indagare questa relazione: come i film si siano ispirati ai dipinti attraverso la storia. Ci sono ancor tantissime pellicole da inserire, forse ci sarà una seconda parte in futuro"

Vugar Efendi
Foto | screenshot dal video Youtube